Frequently Asked Questions
What is a zine?A zine is a non-official publication of collected illustrations and written work. Zines can be physically printed or offered as a digital PDF.What is this zine about?This zine will focus on featuring our favorite boy from Bungou Stray Dogs, Nakahara Chuuya!Zine rating and content?This zine is rated PG-13. Meaning that we allow canon typical violence and language. Creators can choose to feature angst so long as it has a happy ending.Do creators have to follow canon events?
All content ideas are welcomed! Creators can decide on canon-verse, or AUs.Are ships allowed?
This zine will not feature any romantic pairings. Creators can include other characters as long as the interactions are platonic in nature.Charity or profit?This is a SFW Charity Project and any proceeds will be donated to Save the ChildrenPrinted or PDF?This will be a printed A5 size zine with physical merch.Compensation?Contributors are guaranteed a PDF version of the zine. We aim to cover a physical bundle, but this will depend on our sales. Contributors will have the option to purchase the zine and merch at production cost if we are not able to cover a complimentary bundle.How many contributors?
We expect to have around 20-25 artists, 5-7 writers, and 5-7 merch artists.Can I apply for more than one role?
You can apply for as many roles as you wish! However, you will only be selected for one.Would I be allowed to create a comic if accepted?
We will be allowing accepted contributors to create one page comics if they wish. If you have comic samples that show you skills in that medium you are welcome to include them when applying.
---
Guidelines
All Applicants Guidelines
- Three sample pieces that best highlight your skills.
- Samples must be SFW.
- Include a portfolio where we can view more of your work.
- A Bungou Stray Dogs piece is encouraged but not required.
Any applications that don't follow these guidelines will be disqualified.Artist Guidelines
- All sample pieces should be fully colored.
- At least one sample must include a detailed background.Merch Artist Guidelines
- All pieces should be fully colored.
- For print/postcard applicants, at least one piece must include a detailed background.
- No previous merch experience required.Writer Guidelines
- Each sample must be no longer than 2.5k words, for a maximum of 7.5k words across all three samples.
- At least one sample must be a complete, stand-alone fic.
- Excerpts are allowed but should not exceed the required word count.
---
Schedule
All dates are tentative and subject to change.
April 29th - Interest Check opens! (Chuuya's birthday!)

May 27th - Interest Check Closes

June 17th - Applications open

July 16th - Applications close

July 25th - Emails sent!

July 29th - Deadline to join server

August 19th - August 26th - First Checkin

September 23rd - September 30th - Second Checkin

October 28th - November 4th - Third Checkin

December 2nd - December 9th - Final Checkin

January 20th 2023 - Preorders open

February 17th 2023 - Preorders close

March - April 2023 - Production

May - June 2023 - Shipping
---
Meet the mods behind the project
Mod Team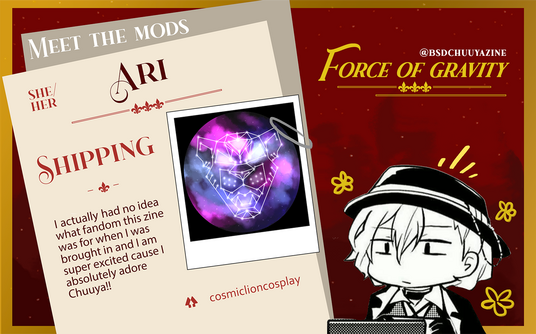 Mod Ari: Shipping Mod
Socials: Linktree
Experience: Heroes' Journey, Red Roses to Black
About: I actually had no idea what fandom this zine was for when I was brought in and I am super excited cause I absolutely adore Chuuya!!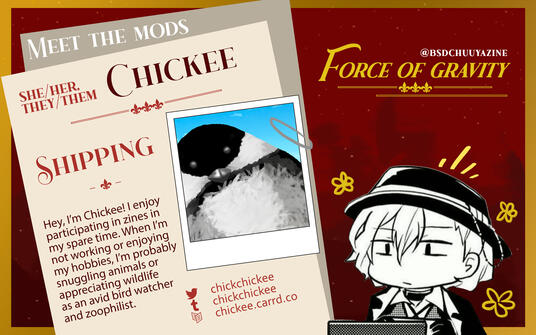 Mod Chickee: Assistant Shipping Mod
Socials: Carrd, Twitter, Tumblr
Experience: FE Afterlife Zine, Ghibli Cards Project
About: Hey, I'm Chickee! I enjoy participating in zines in my spare time. When I'm not working or enjoying my hobbies, I'm probably snuggling animals or appreciating wildlife as an avid bird watcher and zoophilist.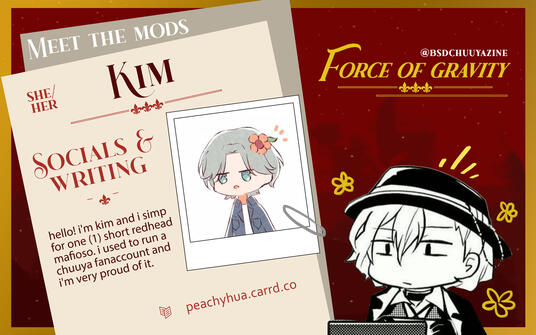 Mod Kim: Social/Writing Mod
Socials: Carrd
Experience: Tsubaki, Bearer of Light
About: Hello! I'm Kim and I simp for one (1) short redhead mafioso. I used to run a Chuuya fanaccount and I'm very proud of it.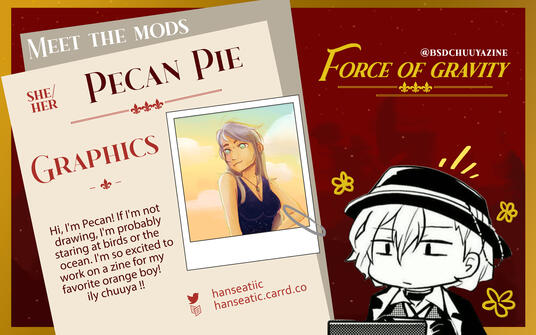 Mod Pecan: Graphic Mod
Socials: Carrd, Twitter
Experience: Scenes of Wonder, Written in the Stars
About: Hi, I'm Pecan! If I'm not drawing, I'm probably staring at birds or the ocean. I'm so excited to work on a zine for my favorite orange boy!!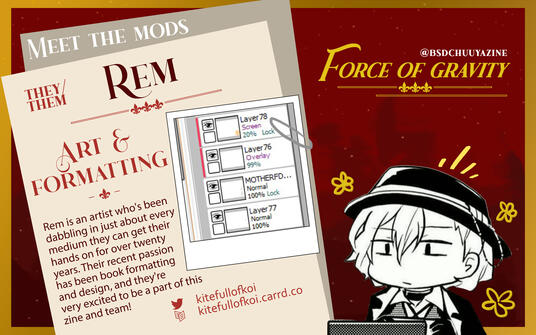 Mod Rem: Formatting/Art Mod
Socials: Carrd, Twitter
Experience: Unbroken Bonds, Journey Beyond (NSFW)
About: Rem is an artist who's been dabbling in just about every medium they can get their hands on for over twenty years. Their recent passion has been book formatting and design, and they're very excited to be a part of this zine and team!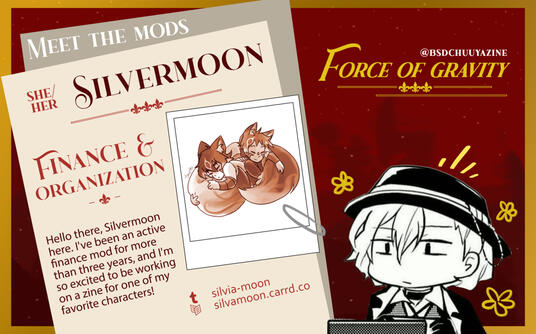 Mod Silvermoon: Finance/Organization Mod
Socials: Carrd, Tumblr
Experience: Equinox Ascending, Heart's Spark
About: Hello there, Silvermoon here. I've been an active finance mod for more than three years, and I'm so excited to be working on a zine for one of my favorite characters!
---